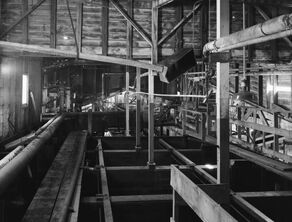 Once upon a time, the Fischer Brothers ran their canning business in the
Downtown Wharf District
, their only client being Proctor Fishing Company. However, when the company found cheap methods to pack and ship their catch, the Fischer Brothers' business closed overnight. The warehouse where it was has been abandoned ever since.
The inside of the warehouse is filled with rusty canning equipment and conveyor belts. Most of the windows are blacked out and the doors barred.
The cannery recently burned down, probably in an effort to cover a crime scene. Bradley Rogers's body was found here among others in 2004.