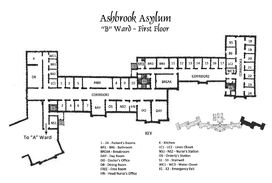 Ward B is a low security ward at
Ashbrook Asylum
that treats mostly wards of the state or have been put in full assisted care.
After Ashbrook's death in 1971 (at the tender age of 87), however, the asylum began developing an ill-reputation as did many other psychiatric institutes during that era: ice water baths, electroconvulsive therapy, straightjackets and isolation cells, ice pick lobotomies and the like. By the early 1980's the asylum was "reforming" trouble teenagers using questionable methods, which abruptly stopped in 1984 when Ward B burned down killing everyone inside. The entire wing was rebuilt about a year later based on the original plans and has maintained a respectable reputation ever since.
The cast learned that a Dr. Williams had cursed his patients with Sin Runes from the Ars Daemon. Wraith went on a brutal rampage and destroyed the ward before Williams could complete his plan. Upon being released from the Treatment Rooms below, he once again attempted to complete the ritual but was thwarted by the cast.
Appearances
Edit